Bigjigs
Rocket Bigjigs wooden railway fits Brio
Regular price
£9.50
£0.00
Tax included.
Rocket Bigjigs wooden railway fits Brio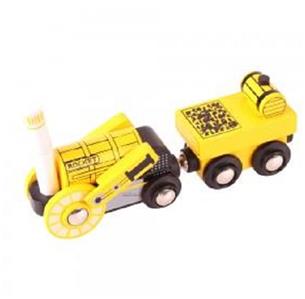 Click image to enlarge
The Bigjigs Rail Heritage Collection offers a delightful range of replicas from the golden age of rail. The packaging includes information about the evolution and working life of the engine, upon which the replica is based. Wooden replica of the iconic Rocket Engine. Licensed from the National Railway Museum, UK. Magnetic couplings ensure compatibility with all other engines and carriages in the Bigjigs Rail range. Consists of 2 play pieces. Most other major wooden railway brands are compatible with Bigjigs Rail. Made from high quality, responsibly sourced materials. Conforms to current European safety standards. Age 3+ years. Length: 145mm.
The Bigjigs Rail range is one of the most complete wooden railway systems available. A comprehensive range of wooden railway products (including train track, train sets, trains, train tables and more) make Bigjigs Rail the perfect choice when starting or extending a wooden railway network.
- The Heritage Collection from Bigjigs offers a delightful range of replica engines from the golden age of rail. Licensed from the National Railway Museum, UK.
- Magnetic couplings enable it to pull a full compliment of carriages.
- Beautifully packaged with educational information about the engine's evolution and working life.
- Also compatible with other leading wooden rail systems.
- Made from quality responsibly sourced materials, Bigjigs Toys conform to current EU safety standards


The complete eBay Selling Solution.
---
More from this collection