The Vale of Rheidol Railway
British Railways The First 25 Years Volume 7: London Western Region
Regular price
£22.50
£0.00
Tax included.
British Railways The First 25 Years Volume 7: London Western Region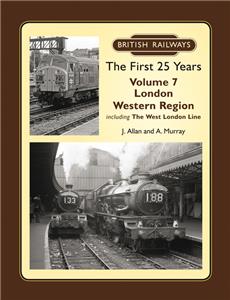 Click image to enlarge
This is the seventh in a series of books, depicting the first 25 years of British Railways with many previously unpublished photographs. Unlike the previous central London volume in this series, which covered the complex multi-termini Southern Region lines, the Western Region featured only one terminus, Paddington, served by one large motive power depot. At nationalisation in 1948, the newly-formed Region took over responsibility for the West London line, which was an important artery for freight traffic between the four Regions of British Railways. Starting at Paddington, we follow the main line to the west out as far as Langley, visiting the servicing point at Ranelagh Bridge outside Paddington, the principal motive power depot at Old Oak Common, and the secondary depot at Southall. We then travel down the three short branches from the main line, to Greenford, Staines West and Uxbridge Vine Street. Our West London line journey begins at Clapham Junction, crosses the Thames at Chelsea and then we study the passenger and freight traffic passing through Kensington Olympia, worked in the late 1960s by more than ten different modern traction classes. There is a postscript in the form of the last regular steam workings in London, provided by ex-GWR pannier tanks, albeit wearing London Transport's maroon livery. Nationalisation in 1948 appeared to have little effect on the Western, and only in the late 1960s did change become apparent as the first diesel-electrics began to appear at Paddington. The 1968 Traction Plan sounded the deathknell for the hydraulics, although some of them would last for almost another decade. The 'Warships' and 'Westerns' were replaced by the ubiquitous Brush Type '4', and the North British Type '2's and 'Hymeks' were ousted by Brush Type '2's transferred from the Eastern Region. The mix of pictures in this book illustrates, we hope, the unique character of the 'Western' in London, with a good balance between steam and diesel traction, and with a few gas turbines added in for good measure. 208 pages h/b


Attention Sellers - Get Templates
Image Hosting, Scheduling at Auctiva.com.
---
More from this collection