The Vale of Rheidol Railway
Great Western Locomotives on the Main Line - GWR Edwardian Railway Scenes
Regular price
£10.00
£0.00
Tax included.
Great Western Locomotives on the Main Line - GWR Edwardian Railway Scenes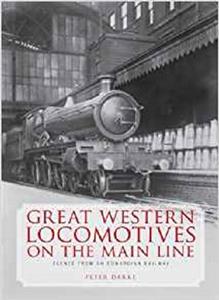 Click image to enlarge
With the final elimination of the broad gauge in the early 1890s, the Great Western Railway for the first time possessed a fleet of locomotives that was exclusively standard gauge. Under the auspices of George Armstrong, William Dean and George Jackson Churchward, a number of classic locomotive designs emerged from both Wolverhampton and Swindon works during the final decades of the 19th century. These included the 'Dean Goods' 0-6-0s, the 'Star' class 4-6-0s, the 'City' class 4-4-0s and the 'County' class 4-4-0s. Peter Darke draws upon the collection of a photographer who was active during the years from 1905 until the outbreak of World War I; he travelled widely over the GWR network during these years of the company recording primarily the locomotives and trains that were then in service. The volume includes a historical overview of the GWR during the Edwardian period coupled with a variety of photographs and detailed captions. The author also outlines a number of other pre-Grouping companies - such as the Midland & South Western Joint - that were to become part of the GWR in 1923.


THE simple solution for eBay sellers.
---
More from this collection