The Vale of Rheidol Railway
Mersey docks and harbour board Locomotives and railways
Regular price
£16.95
£0.00
Tax included.
Mersey docks and harbour board Locomotives and railways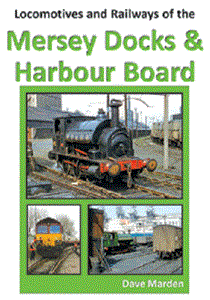 Click image to enlarge
This book looks at the development of the dock railway and the large number of locomotives that worked on it. It is now over 40 years since the Mersey Docks and Harbour Board Railway ceased to exist and, apart from the occasional magazine article or photo, nothing much of any consequence has appeared regarding this once famous dock system.Under the Mersey Docks and Harbour Board, the Port of Liverpool stretched for seven and a half miles along the east side of the River Mersey, having been made up of some 35 docks built from 1715 until 1927. The docks 'main line' ran the length of its perimeter along the west side of the dock road from Herculaneum Dock in the South to Gladstone Dock at its northern limit but the docks themselves did not contain the sprawling network of tracks or any of the vast marshalling yards seen at the likes of London and Southampton. The MD&HB railway contented itself to be merely a haulier between the quaysides and the large number of railway company goods stations that had mushroomed along the east side of the dock road as the port expanded along the Mersey shore. These were, with a few exceptions, connected to the dock railway at various places along the way and became focal points of the docks traffic where freight was sorted and marshalled for onward transit.In 1904 an agreement had been reached which saw all docks traffic, between the quaysides and the railway depots, operated and administered by the Chief Traffic Manager of the MD&HB who employed a growing fleet of locomotives to convey the various railway company wagons together with its own internal stock. When this came into force the following year, it led to a highly organised and more economic system that ran until closure of the dock railway in 1973. softback


The complete eBay Selling Solution.
---
More from this collection