The Vale of Rheidol Railway
NARROW GAUGE BY THE SUDANESE RED SEA COAST
Regular price
£6.50
£0.00
Tax included.
NARROW GAUGE BY THE SUDANESE RED SEA COAST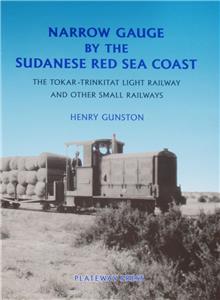 Click image to enlarge
Softback, colour cover 80 pages, 30 black & white photographs, 5 maps. 
[ISBN 1 871980 46 1]
A remarkable collection of photographs and notes by members of the Ellis family form the core of this book, in addition to further research by the author and writings and photographs from former Sudan railwaymen.
This book charts the history of two railways from Trinkitat. The first an 18in gauge line which ran to water wells at El Tib was built in 1896 under Egyptian military supervision and later abandoned. The second the Tokar-Trinkitat Light Railway, a 600mm gauge line primarily used for the export of the cotton crop from Tokar, built in 1921/22 by contractors, using ex-War Department Light Railways rolling stock and Simplex locomotives, effectively absorbed by Sudan Railways in 1993 and closed in 1952.


The complete eBay Selling Solution.
---
More from this collection