The Vale of Rheidol Railway
Narrow Gauge Story DVD Ffestiniog Dinorwic Harz Russia USA
Regular price
£14.00
£0.00
Tax included.
Narrow Gauge Story DVD Ffestiniog Dinorwic Harz Russia USA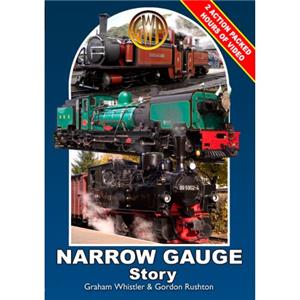 Click image to enlarge
In 1832 the Ffestiniog Railway surprised the Nineteenth Century transport industry by building a fully functioning railway to the unusual gauge of 1' 11¾". The success of the Ffestiniog led to the building of many more "Narrow Gauge" lines both in the UK and throughout the world.
The NARROW GAUGE STORY uses both film and video footage to illustrate the proliferation of these lines by showing the little trains in their natural environment with some wonderful action sequences. On the Ffestiniog Railway we learn the reasons behind narrow gauge followed by visits to other Little Trains of Wales including Dinorwic and the Welsh Highland Railway with its awesome articulated steam locomotives.
The story continues as we leave the British Isles to visit the former Soviet Union, India, South Africa and the USA. In Europe we visit a tiny backwater of English narrow gauge plus railways in France and Greece and then on to the remarkable Harz system in Germany followed by a scenic trip through Switzerland. The splendor of rack railways is also celebrated with visits to Wales, Switzerland, Austria, India and Spain.
For any narrow gauge enthusiast this 2 hour programme is an absolute feast!
Running Time - appox 120 minutes.


The complete eBay Selling Solution.
---
More from this collection