The Vale of Rheidol Railway
Open Cockpits & Straw Bales: Motor Racing in the 1950s
Regular price
£9.00
£0.00
Tax included.
Open Cockpits & Straw Bales: Motor Racing in the 1950s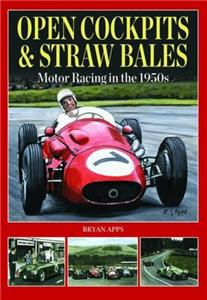 Click image to enlarge
epic victories of the `Bentley Boys' at Le Mans.
In Straw Bales and Open Cockpits the author,
through his superb paintings, captures the excitement
of the cars and drivers who risked everything in what
turned out to be the final days of unrestrained competitive
motor racing, when cars were still operated
by controls which any motorist would easily recognise
today, racing drivers were clearly visible in their
open cockpits, often with only thin leather helmets
to protect their heads. National colours and large
racing numbers made the cars and their drivers easy
to identify as they sped past only yards away from
where one stood. But with the thrills came increased
dangers for the drivers with little more than straw
bales between them and disaster. So many great
racing drivers lost their lives in the course of those
ten years and all of them are remembered here.
This book inevitably majors on the Formula 1
World Championship series which began at Silverstone
in 1950, but some notable non-championship
events are also included and, in addition, the Monte
Carlo Rally, the Mille Miglia and Le Mans. 160pp h/b


THE simple solution for eBay sellers.
---
More from this collection