The Vale of Rheidol Railway
Plymouth's hidden railways Industrial
Regular price
£16.00
£0.00
Tax included.
Plymouth's hidden railways Industrial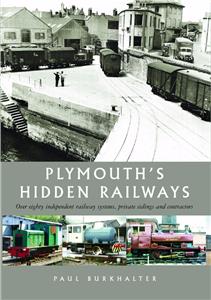 Click image to enlarge
Plymouth was well served by the Great Western Railway and by the London & South Western Railway, though initially through associated companies. However the main lines and their branches required private connections to the industries they wanted to serve, hence a myriad of small lines existed for this purpose. In the Plymouth area over eighty such independent railways and tramways came into being. Some were extremely short, a matter of yards, but others were huge undertakings of twenty miles or more. This book contains a wealth of information illustrated with photographs, many of which have not previously been seen, and maps.
Paul Burkhalter has had a lifelong interest in railways, and has contributed to the research activity of both the Industrial Locomotive Society and the Industrial Railway Society. Paul's previous book, Devonport Dockyard Railway, also published by Twelveheads Press, remains the classic work about this location. He now presents in this book the result of nearly 25 years researching the hidden railways of the Plymouth area.


THE simple solution for eBay sellers.
---
More from this collection