pdf models
Quarry Hunslet 32mm gauge kit pdf models 16mm scale Garden railway
Regular price
£125.50
£0.00
Tax included.
Quarry Hunslet 32mm gauge kit pdf models 16mm scale Garden railway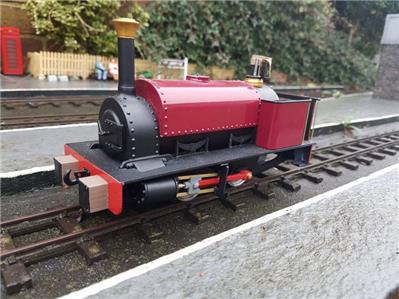 Click image to enlarge
Quarry Hunslet Saddle Tank – 16mm scale model kit.
The Quarry Hunslet comes in both 32mm  gauge,  without a cab (sold separately).
This model has been created with a 3D printer using Computer Aided Design (CAD) techniques. Due to the build process, some degree of hand finishing is required to achieve a really first class finish to your model.
This kit comes complete with the necessary 3D printed parts, along with wheels, motor & gears. Also included are all the metal parts required for axle bearings, slide-bars, etc. Together with all the screws, nuts and bolts need to complete your model.
All you need to complete the kit is glue (pdf recommend a Superglue), paint and a filler (body filling is not necessary, but does improve the finish of the model).
To make the locomotive operable, batteries and a switch will also be required. This can be as simple as disposable batteries and an on/off switch, but my models can also be built with rechargeable batteries and radio control operation. This choice is down to the individual builder.
For further information regarding the building of  kits including electronic control, please refer to the  Building Instructions page on the pdf models website.
40 to 1 ratio worm gear
3-6 volt motor
32mm  gauge

will need assembly, finishing, batteries and electrics to operate


Attention Sellers - Get Templates
Image Hosting, Scheduling at Auctiva.com.
---
More from this collection