The Vale of Rheidol Railway
Small Island by Little Train narrow gauge adventure, rheidol, manifold hardback
Regular price
£16.99
£0.00
Tax included.
Small Island by Little Train narrow gauge adventure, rheidol, manifold hardback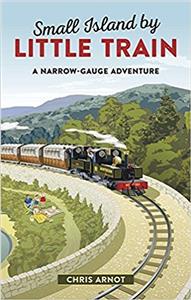 Click image to enlarge
From stalwart little locomotives of topographic necessity, to the maverick engines of one man's whimsy, Britain's narrow-gauge steam trains run on tracks a world apart from its regimented mainlines. In Small Island by Little Train, eccentricity enthusiast Chris Arnot sets out to discover their stories. Stories include miniature railway on the Kent coast, used for Home Guard military trains during World War II, and now the school commute for dozens of local school children. The UK's only Alpine-style rack-and-pinion railway, scaling one of Britain's highest mountains. The five different gauges of railway circling one man's landscaped garden, and the team building their own trains to run on it.Far more than mere relics of the nation's industrial past, or battered veterans of wartime Britain, these are also stories of epic feats of preservation, volunteerism, tourism, and local history. They are an exploration of idiosyncrasy, enthusiasm and eccentricity. Or, to put it another way, a tale of Britishness.

Chapters include leek and Manifold, Leadhills and Wanlockhead, South Tynedale, Statfold Barn and Vale of Rheidol


The complete eBay Selling Solution.
---
More from this collection