The Vale of Rheidol Railway
Walking Around Welshpool, Newtown and Montgomery
Regular price
£4.95
£0.00
Tax included.
Walking Around Welshpool, Newtown and Montgomery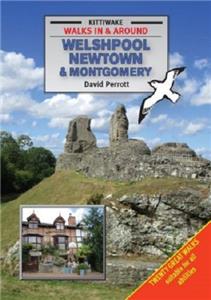 Click image to enlarge
Kittiwake's original guide to Welshpool was first published in 2003, and had reprinted regularly since then. We have now reached the decison to expand its coverage to include not only Welshpool and Llanfair Caereinion, but also Newtown and Montgomery, towns which, for a long time, have been deserving of our attention. Comprises directions for following ten diverse circular walks.

Cyhoeddwyd canllaw Kittiwake i ardal y Trallwng gyntaf yn 2003, ac fe'i adargraffwyd yn rheolaidd ers hynny. Mae'r argraffiad newydd hwn yn ymestyn y canllaw o'r Trallwng a Llanfair Caereinion i ardaloedd y Drenewydd a Threfaldwyn, gan gynnig golwg ar fannau eraill yn y canolbarth sy'n haeddu sylw. Cynhwysir cyfarwyddyd i ddilyn ugain taith gylchynol amrywiol.


THE simple solution for eBay sellers.
---
More from this collection